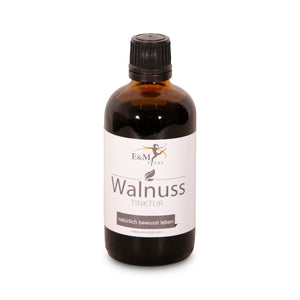 E&M Vital black walnut tincture
-the bitter tincture supports the elimination of parasitic loads-
In folk medicine, the walnut was discovered in ancient times to protect against parasites. The black walnut herbal bitter concentrate contains specially selected and proven plant raw materials of traditional herbal medicine. Its wide range of active ingredients is particularly popular in the case of parasitic stress.
Ingredients and information:
black walnut: The black walnut tree is a species of plant in the walnut family. Fruit peel, leaves, roots and bark contain various active ingredients that have proven themselves in traditional herbal medicine. The dye not only causes the black coloring of the walnut shells, but also protects the tree against parasites.
Clove: the aromatic bud is one of the best known antioxidants and is therefore more suitable than almost any other spice for strengthening the body's immune system.
Wormwood: has a stimulating effect on the stomach and bile ducts, flatulence, antispasmodic, anti-inflammatory, stimulating the central nervous system - wormwood is one of the bitterest European medicinal plants.
Orange peels: they consist, among other things, of so-called non-soluble polysaccharides, a group of edible fibers (pectins, tannins and hemicellulose). These substances ensure that food stays in the intestines for a shorter time and can reduce flatulence and heartburn.
Real marshmallow: has a soothing effect on the intestines and the mucilage contained also supports the removal of foreign bodies and harmful microorganisms. Local irritations can be alleviated by the enveloping effect of the mucilage obtained from the marshmallow.

Recommended intake:
take 10 - 15 drops daily with sufficient water for about 4-6 weeks as a cure.

Content: 100 ml