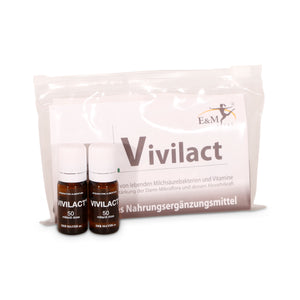 E&M Vital Vivilact - harmony in the intestines

Vivilact with 50 billion lactic acid bacteria for a harmonious intestinal microbiome.
Our sensitive intestinal flora can be disturbed and weakened by an unhealthy diet and lifestyle, stress, medication (especially antibiotics), environmental toxins, etc. If the intestine is weakened, harmful microorganisms take over and crowd out the beneficial intestinal bacteria - the milieu in the intestine becomes unbalanced. However, the intestinal flora has an enormous influence on both physical and mental health. The intestinal bacteria living in us not only control our immune system, but also our emotions. It is therefore important for our health and well-being to pay attention to an intact micro-intestinal flora.     
The 4 strains of lactic acid bacteria contained: Bifidobacterium Lactis, Lactobacillus Acidophilus, Lactobacillus Plantarum and Lactobacillus Paracasei provide valuable support for our intestinal flora. The additional enrichment with prebiotics such as arabino-galactooligosaccharides, glucans and vitamins from the B group serve as symbionts and provide the ideal breeding ground for better growth of lactic acid bacteria and longer contact with the intestinal mucosa.
Info:
Vivilact is a particularly innovative product to support the intestinal microflora and its resistance to guarantee a healthy balance in the body.
Drinkable ampoules with 50 billion live lactic acid bacteria per vial.
Recommended intake:
1 ampoule daily for 7 - 14 days
Contents:
1 pack of Vivilact contains 7 drinking ampoules