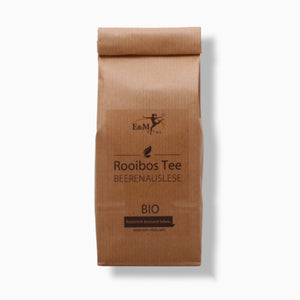 E&M Vital Tea Variations
Rooibos tea has a very calming effect, has blood vessel and skin-protecting properties and, thanks to its high mineral content, is also ideal as an isotonic thirst quencher in summer. Due to its balancing ingredients, it is also a valuable drink for children throughout the year.

Preparation:
For one liter of tea, brew 4 heaped teaspoons of herbs with boiling hot water and leave for no longer than 2 minutes. At least 2 infusions with one and the same portion of herbs are possible.

Ingredients:
Rooibos, elderberries, apple pieces, blackberry leaves, mallow blossoms, currants, blackberries, aloe vera.

Content: 100g