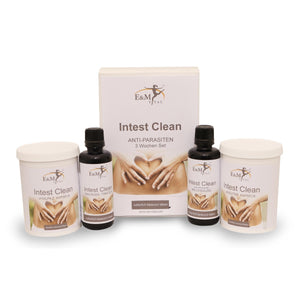 E&M Vital Anti-Parasite Treatment
Microbial loads not only cause allergic reactions and weaken our immune system, they generally have a toxic effect on the entire organism. Up to 150 different types of parasites can live in the human body - some microbes are well known, such as Candida albicans, Heliobacter pylori, Borrelia or amoebas.
If there is a concrete suspicion of parasite infestation, consistent detoxification and a change in diet must be carried out. Usually there is a classic microbial intestinal detoxification based on natural active ingredients that have been tried and tested for centuries.
We therefore recommend that you carry out an anti-parasite treatment 1-2 times a year as a preventive measure.
The Intest Clean parasite cure with exclusively natural substances supports both targeted detoxification and the reconstruction of a healthy intestinal environment. This allows the immune system to rebuild and maintain a stable microbiome balance.
The anti-parasite set consists of 4 coordinated special products:

The black walnut tincture and the special composition of the herbal capsules actively support the defense against parasites and can block further proliferation.
The acacia fiber contained in the vital mushroom mixture sustainably supports intestinal immunity. The high content of important micronutrients and amino acids promotes the reconstruction of a healthy intestinal environment.
The right-handed lactic acid supports the necessary pH value correction in the intestine and provides reserves to deprive the parasites of their breeding ground.
Contents: herbal mixture 190 capsules, black walnut tincture 75ml, right-handed lactic acid 50ml, acacia/vital mushroom mixture 190 capsules