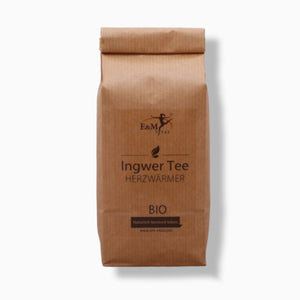 E&M Vital Tea Variations
Ginger tea is a wonderful feel-good tea and its warming effect is particularly appreciated in the cool season.
It has a stimulating effect and is particularly suitable for promoting inner well-being.

Preparation:
For one liter of tea, scald 4 heaped teaspoons of herbs with boiling hot water and leave for no longer than 2 minutes. At least 2 infusions with one and the same portion of herbs are possible.

Ingredients:
Lemongrass, orange peel, apple pieces, ginger, pineapple pieces, marigold, cardamom, lemon peel, aloe vera.

Content: 100g