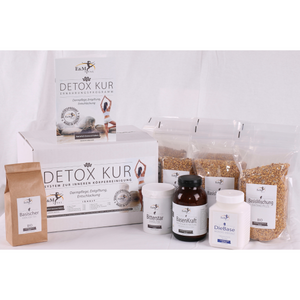 E&M Vital - colon cleansing & detoxification
The diverse burdens of today require a new orientation in maintaining vitality and health. The special E&M Vital intestinal cleansing & detoxification treatment was developed by Bernadette Ensfellner based on many years of experience and meets today's requirements.

The organism is optimally relieved and specifically freed from excess pounds and stress.
Content 2 weeks cure
2x 750g base mix
1x 750g The Base
1x alkaline herbal tea in a bag (25 pcs.)
1x 100g fiber mix
1x 165g base power
1x 100g 8-herb bitter star
1x enema device including intestinal tube
Content 4-6 week cure
5x basic soup 750g
1x DieBase 750g
1x basic herbal tea 120g
1x fiber mix 250g
1x base power 330g
1x 8 herbs BitterStar 150g
1x intestinal care concept
1x enema device including intestinal tube

Instructions for the cure program including a recipe section for the restorative diet are included in the package