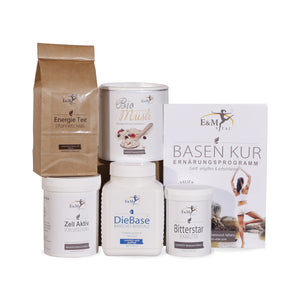 E&M vital base treatment
A balanced acid-base balance is a basic requirement for healthy internal milieu conditions, active organ, metabolic and immune functions.
It is therefore very important to support the body's own acid-base balance with optimal and holistic methods such as the E&M Vital Base Cure .
Contents E&M Vital Alkaline Cure
Schlemmer muesli – gluten-free and rich in fibre

Zell Aktiv – base-active, purely plant-based micronutrient complex to accompany important metabolic and regeneration processes
Bitter herbs – support digestion, the acid-base balance and the immune system
Metabolism tea - a specially selected combination of valuable herbs for the best possible alkaline treatment - success
DieBase alkaline bath salts – tried and tested and known as a jack of all trades when it comes to possible uses, DieBase is a popular and beneficial product, both during and after the cure.
Instructions for treatment included in the package